Roman Persecution of Christians used to legitimize Homophobic Victim Mentality
The Alliance Defending Freedom is an American non-profit organization that, under the guise of promoting and protecting "religious freedom", opposes gender equality, promotes homophobia and transphobia, and works to restrict or reduce the civil and legal rights of gay people. The SPLC has categorized them as a hate group for "supporting the recriminalization of homosexuality in the U.S. and criminalization abroad;" "defend[ing] state-sanctioned sterilization of trans people abroad;" "link[ing] homosexuality to pedophilia and claim[ing] that a 'homosexual agenda' will destroy Christianity and society." ADF is one of the most influential Christian advocacy groups in the United States: it has been invited to events sponsored by President Trump's white house, has allies at all levels of government, and has won numerous cases in the United States Supreme Court. These cases include a ruling that allowed a Colorado cake-maker to discriminate against gay people and another that allowed corporations to refuse to provide insurance coverage for contraception. In these fights ADF presents itself as a bulwark against an oppressive and immoral government and culture, and one of the ways it does this is through comparisons between 21st century Christians in America and early Christians who were persecuted under the Roman Empire.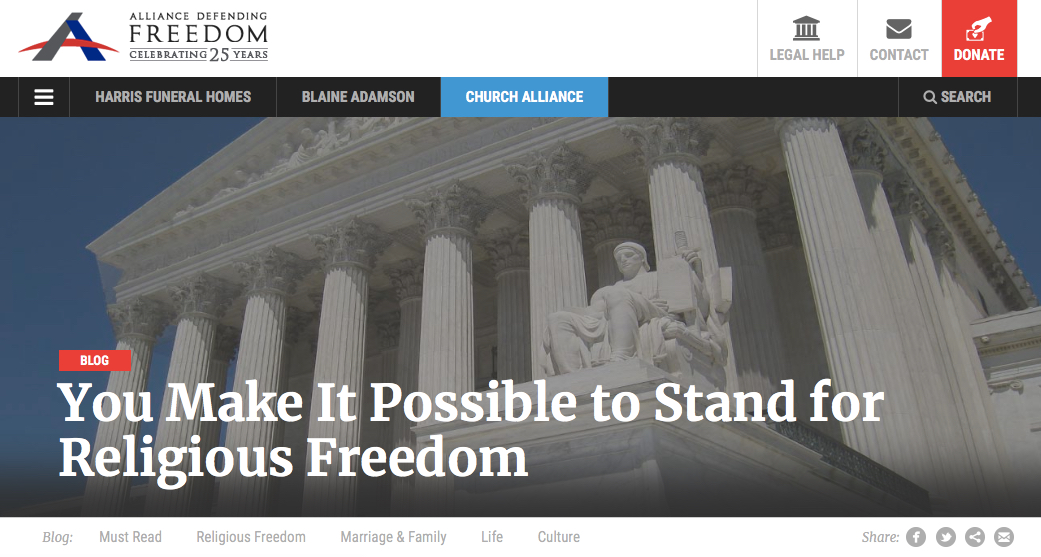 In addition to its homophobic activism, much of ADF's work focuses on opposing contraception and abortion, both of which can be characterized as misogynist or anti-feminist causes. We are focusing primarily on ADF's homophobia and transphobia in this post but their rhetoric of persecution arises in response to advances in both feminism and gay rights, especially U.S. laws and court rulings that have made contraception affordable for all Americans, have legalized gay marriage, and attempted to provide rights and protections for transgender people. Homophobic groups within Christianity regard these laws as unjust and immoral because, in the words of their "Manhattan Declaration," they promote "immoral sexual partnerships" and prevent them from "proclaiming the truth, as we know it, about morality and immorality and marriage and the family." This document, which has been signed by more than half a million people, contains a call to disobey these laws and justifies such disobedience with the words "we will fully and ungrudgingly render to Caesar what is Caesar's. But under no circumstances will we render to Caesar what is God's."
This is a paraphrase of a passage found in three gospels of the New Testament, in which the religious opponents of Jesus attempt to trick him into disobeying Roman law by asking him whether it is right to pay taxes; Jesus avoids self-incrimination by saying that one should "Render…unto Caesar the things which are Caesar's; and unto God the things that are God's." To the ADF and its allies, Jesus' teaching here means that the laws of God, as they perceive them, take precedence over U.S. Law, with "Caesar" likening the U.S. government to an oppressive and illegitimate tyranny that violently imposes its will on the people. Articles on ADF's webpage develop this comparison further, likening those whose homophobic views are marginalized by current law to Christians who were persecuted in early Rome, claiming that the current age poses an "existential threat" comparable to the "periodic persecutions [that] martyred perhaps as many as three million Christians" under the Roman Empire. Turning to a metaphor of "the Church as light" ADF quotes the New Testament to characterize the present as a time when "people love darkness instead of light because their deeds [are] evil" before exhorting its supporters to remain steadfast in their hateful views, because "the teachings of Christ are true no matter what the surrounding culture believes."
In most of ADF's articles the Roman Empire is held up as an immoral and violent tyranny in order to exhort its supporters to reject contemporary laws. But when it suits their arguments, they are perfectly happy to invoke the Roman Empire as a positive model.
The comparison of the contemporary world to early Rome is perverse because early Christians faced torture and death, not the requirement that they recognize the rights and humanity of others. This does not prevent the ADF from making a further comparison to the complicity of the German church in the Holocaust, which they hold up as an example of what happens when religious leaders "fall into the trap of conforming to the culture rather than acting as its conscience," as if allowing gay people to marry each other is comparable to genocide. If anything the example of Nazi Germany, where gay people were subject to arrest and in some cases incarceration in concentration camps, points to the danger of allowing homophobic prejudices to remain unchallenged.
The following are examples of how the ADF uses references to ancient Rome to promote homophobia and to establish a sense of victimhood and persecution among its supporters:
As with many of the hate groups that Pharos documents, there are many contradictions in ADF's use of antiquity. In most of their articles the Roman Empire is held up as an immoral and violent tyranny in order to exhort its supporters to reject contemporary laws. But when it suits their arguments, they are perfectly happy to invoke the Roman Empire as a positive model. To judge from their website, they have been criticized for their aggressive legal strategy by some Christians who argue Jesus taught his followers to "turn the other cheek." ADF's response is to point to Paul the Apostle, who, according to the Acts of the Apostles, invoked his Roman citizenship to "shield himself from the anti-Christian sentiment in Jerusalem." It goes on to praise him for "navigat[ing] the proper legal channels to plead his innocence before the authorities." It seems that the law or the courts only have legitimate authority when they are on ADF's side.
This hypocrisy aside, the ADF's use of antiquity can be said to differ from other appropriations by hate groups that Pharos has documented in that ADF is identifying themselves with a group that was subordinate in antiquity. Whereas white supremacists think of themselves as modern Spartiates, and misogynists long for ancient patriarchal power, ADF invites its supporters to identify with a group that was persecuted in antiquity. Of course, Christianity eventually became the state religion of the Roman Empire, but this is not the history ADF refers to. The reasons for this bias are plain: ADF is more interested in promoting a feeling of victimization among its supporters than reflecting on the legacy of hegemonic Christianity. But ADF's appropriation nevertheless suggests that all aspects of Greco-Roman antiquity, even the marginalized, can be enlisted in support of hateful politics.
---
We have linked above to archived versions of ADF's articles to avoid generating traffic for their site.